Abyss Walker King
The Abyss Walker King

Info:

Name:
Abyss Walker King
Total HP:
500
Member of faction:
mob_walker
Entity ID:
chocolateQuest.abyssWalkerboss
Drops:
King Armor,0-1 Shield,Walker Sword,Badge.

Boss Monster:
Abyss Walkers
Found in:
All Snow Castles.
The Walker King looks like a regular walker, but he wears King Armor and Colored Diamond Armor. He bears a walker sword and a shield. He is definitely the strongest boss in the mod, even being able to give Shelob a run for her money.
Enemies: Undead, Gremlin, Pirate, Mecha Golem.
Allies: Walkers
The Abyss Walker King teleports and blocks with his shield, beside also hitting hard! He can also shoot 2 tornadoes: an abyss one which will encase around you, and a walker one which will spread all around the place. Careful out there!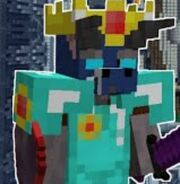 If you have the Morph Mod installed, and you defeat the Abyss Walker King, instead of his morph, you will turn into a pig