The alchemist is something of a wizardly vassal, who lurks in his own room below the alchemist castle and works similarly to a necromancer, except that he has a few less spell options, and will also throw potions at the player. He does also have a bit less health than a necromancer [citation needed] and his room contains several helpers, also bearing potions.
Defeating the alchemist, although not giving too interesting drops, will allow you to loot his room, giving you more bookshelves than you'll ever need, as well as painfully huge numbers of the materials used to make potions. Never has any been able to brew upon this scale before. Plus, some of these things, like the blaze powder and glowstone dust, are good for other things too!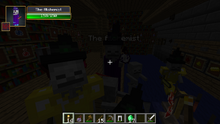 Ad blocker interference detected!
Wikia is a free-to-use site that makes money from advertising. We have a modified experience for viewers using ad blockers

Wikia is not accessible if you've made further modifications. Remove the custom ad blocker rule(s) and the page will load as expected.