The Butcher... Only the cruelest miniboss of all. Wearing Red Leather Armor and a Bull Helmet, with a relatively low for a miniboss 120 Health, the Butcher sacrifices defense for hitting like a tank. He resides nearby the Necromancer underground in the Bigtree. Has a workshop full of fun things, including Villagers suspended from the ceiling... as if being a reanimated corpse wasn't enough, he's a torturer too...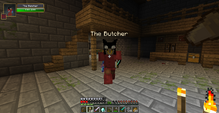 Ad blocker interference detected!
Wikia is a free-to-use site that makes money from advertising. We have a modified experience for viewers using ad blockers

Wikia is not accessible if you've made further modifications. Remove the custom ad blocker rule(s) and the page will load as expected.