The chocolate quest wiki is made possible by massive community unity. If you've contributed to the wiki, and want people to know about it, please, place your name in the second section, and list why!
Major Contributions
Edit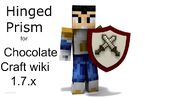 ArloTheEpic - Founder of The Chocolate Quest Wiki
HingedPrism - Administrator of The Chocolate Quest Wiki and main contributor
Other Contributions
Edit
Justinscotch - Wiki Editor - Screenshots, slime boss stats, bull boss stats, pirate captain stats, necromancer stats, giant/monking stats, gremlins stats, random Lore.
yournamehere! - your contributions
Ad blocker interference detected!
Wikia is a free-to-use site that makes money from advertising. We have a modified experience for viewers using ad blockers

Wikia is not accessible if you've made further modifications. Remove the custom ad blocker rule(s) and the page will load as expected.